Course details
All over 80 species! All-you-can-drink course 2500 yen → 2000 yen! Super Dry · Black Bottle!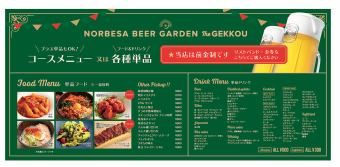 By using a coupon2000 yen
All-you-can-drink available
Sapporo beer garden largest class! All you can drink! Asahi Super Dry! Approximately 80 kinds including black beer · cocktail etc can be drunk!
Course menu
All 80 kinds of fulfilling menu! All-you-can-drink · drink menu
Asahi Super Dry and other 4 types
WINE all five species
Sake in North Sake North
All 5 kinds of makgeolli
12 kinds of shochu cocktail
Plum wine Asahi rich plum wine rock / soda crack
Whisky Black Nikka Clear Barreled High Ball · Black Nikka Rock / Water
Cocktail ~ Beerbase ~ Red Eye · Shandigafu
Winebase Italian Mimosa Bellini
Kiel Spumante · Black velvet
Splitz Splitzer
Kiel operator
White wine cooler · kitty
Karimocho Cardinal
Splitzer Rouge Wine Cooler
Spiritsbase
Jin Ricky
Gin tonic
Jim Buck
Orange Blossom
Vodka Tonic
Moscow Mule
Bulldog
Mojito
Cuba Libre
Ram tonic
Boston cooler
Margarita soda
Mexican cook
TECONIC
Cassis soda
Cassis Orange
Cassis grapefruit
Peach Fizz
Fuzzy group
Kuyanyan
Calamilk
Campari soda
Campari Orange
Campari Grape
Apelosoda
Apellor orange
Appellole grape
Softdrink
Cola · Ginger ale · Orange juice · Grapefruit · Tomato juice · Oolong tea · Green tea
☆ The item menu for drinks is 500 yen for alcohol and 300 yen for soft drink.
All-you-can-drink menu
·beer
· Super Dry / Half & Half / Black Beer
·Sake
· Cold / hot heat
·wine
·Red and white
·Highball
· High Ball / Ginger High Ball
· Sour · Cocktail
· Cassis soda / cassis orange / cassis oolong / fuzzy navel / cuanyan / kitty / keel / chandeziegaf / operator / bacardi mojito / strawberry daiquiri / oolong hi / green tea high / lime sour / lemon sour / shikuwasa sour / yuzu sour / calp sour / gi Sour / Grape Le Foot Sour / Black Plum Soda Soda
·Soft drink
· Coke / Oolong Tea / Green Tea / Calpis / Orange / Ginger Ale
Coupons that can be used with this course
2018/06/11 update